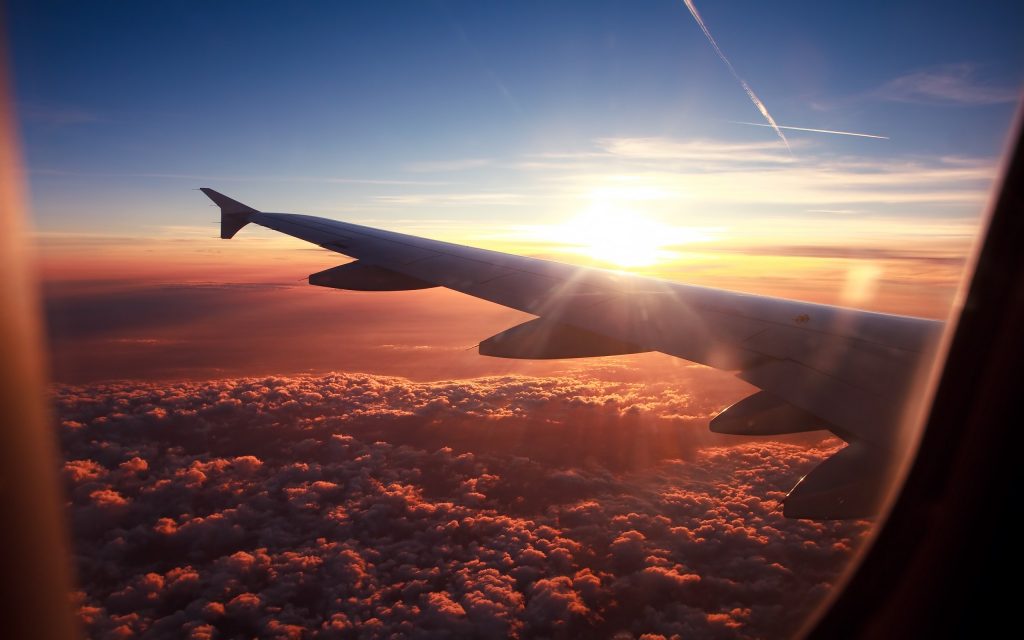 "Don't just fly, soar" – Dumbo
The whole beauty of travelling on a plane is that it allows you to go to places that you're commonly not able to go to. That is one of the best parts of travelling. It offers the traveller time to sit back in his seat and calmly reflect on things in life, with a warm cup of tea in hand. You aren't simply going from one place to another, but rather, you break out of the usual routine of commuting and value-adding to your life through the experiences which you are about to derive from your travels. Despite the rapid advancement Japan had undergone in the past few decades, modernity had melded with the traditional aspects of the Japanese life. Resisting the overtures of modernization, Kyoto is one of the few cities left in Japan that retains its abundance of pre-war buildings, such as the machiya. Similar to the layering of teas that gives you a different experience based on the individual's taste and preference; Kyoto is a city that offers the traveller different perspectives of its beauty based on the individual itinerary. Be it temple-hopping, visiting the numerous well-conserved gardens or shopping, it is bound to appeal to individuals and couples alike.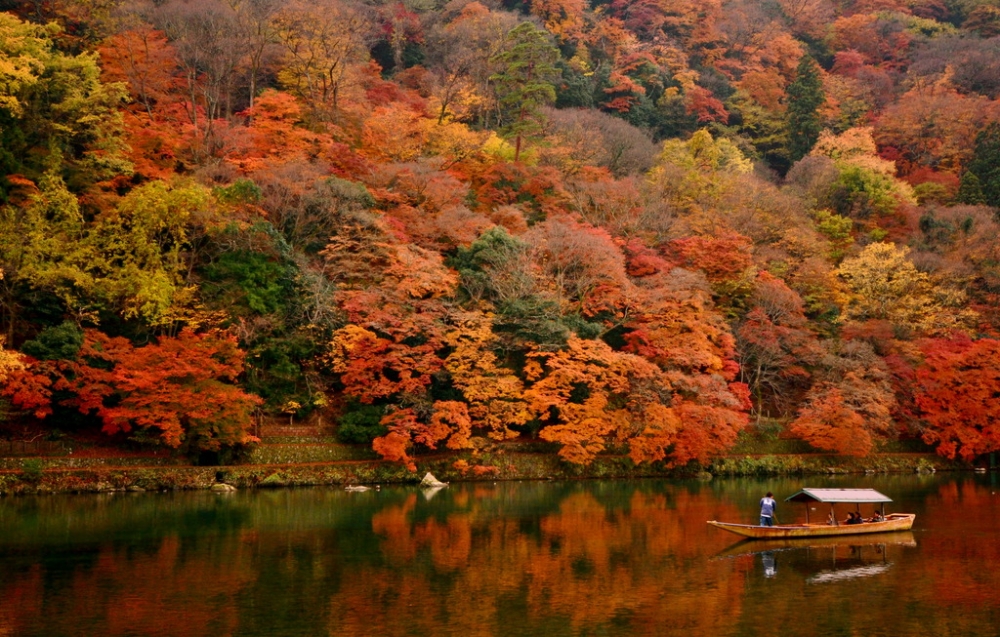 Kyoto in the autumn period usually lasts from mid-October to mid-December. Imagine this. Foliage of red leaves sprouting out and envelops you from every corner of your eyes. This, accompanied by an ocean-blue sky untainted by claws of modernization, is truly stunning sight to behold.
Kiyomizu-dera Temple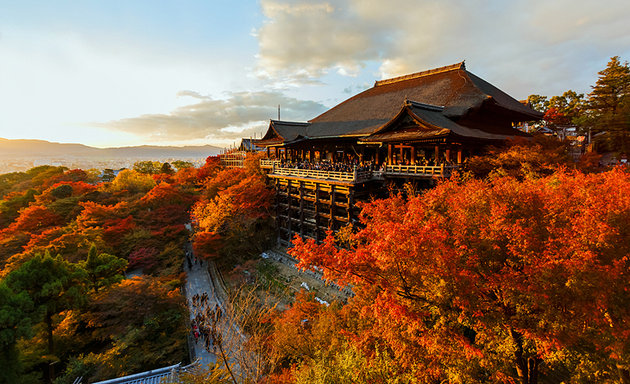 The journey up to the Kiyomizu-dera Temple is a treacherous one indeed. The streets leading up to the shrine are littered with numerous shops selling every type of matcha snack imaginable. Hold on tight to your purse strings or else you'll be lugging bags of snacks even before entering the shrine! Listed as one of the Historic Monuments of Ancient Kyoto UNESCO World Heritage site, the Kiyomizudera Temple stands proudly as the focal point for tourists to flock to, especially during the cherry blossom viewing and maple leaf season. Its wooden stage provides the perfect viewing platform in all of Kyoto, allowing one to bask in the unadulterated sights of the city.
A heads-up for those intending to visit the Kiyomizu-Dera Temple, it has been undergoing renovation from 2008 and slated for completion only in 2020, which may have an adverse impact on visits as certain sections of the Temple might be closed off for renovation works.
Kinkaku-ji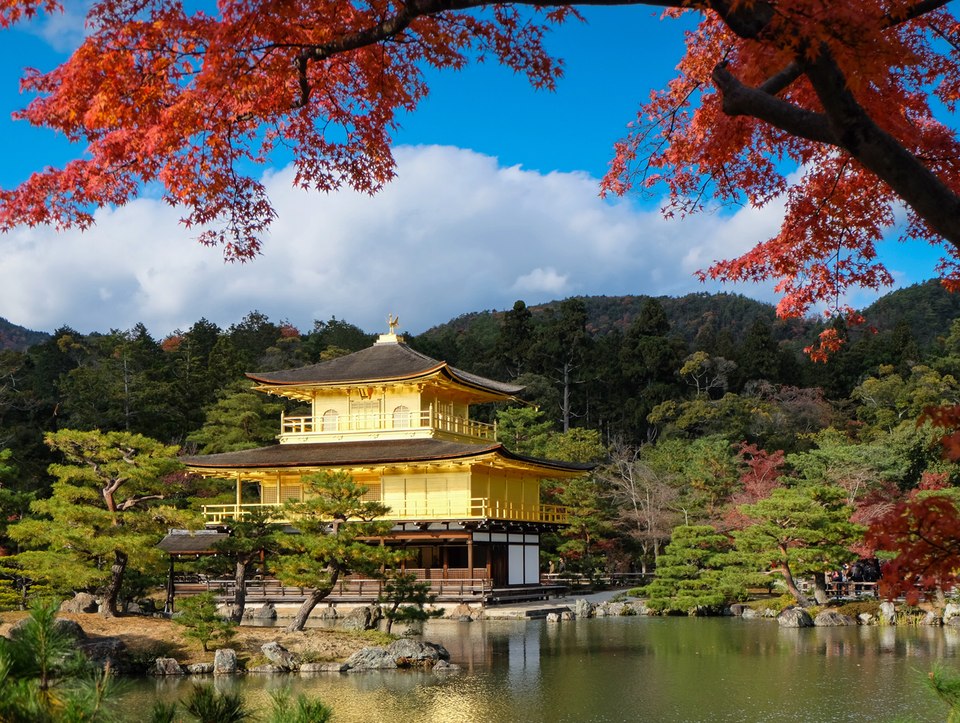 Situated in a picturesque setting that amplifies the quality of your shots regardless of any angle you decide to take of it, the Kinkaku-ji is a magnificent piece of architecture that was refurbished in 1955 following a fire that nearly torched down its structure. Regardless of the season you visit in, its splendour remains unsullied by the natural elements of its surrounding. The layering of elements of the different seasons actually serves to accentuate its beauty instead.
Arashiyama Bamboo Forest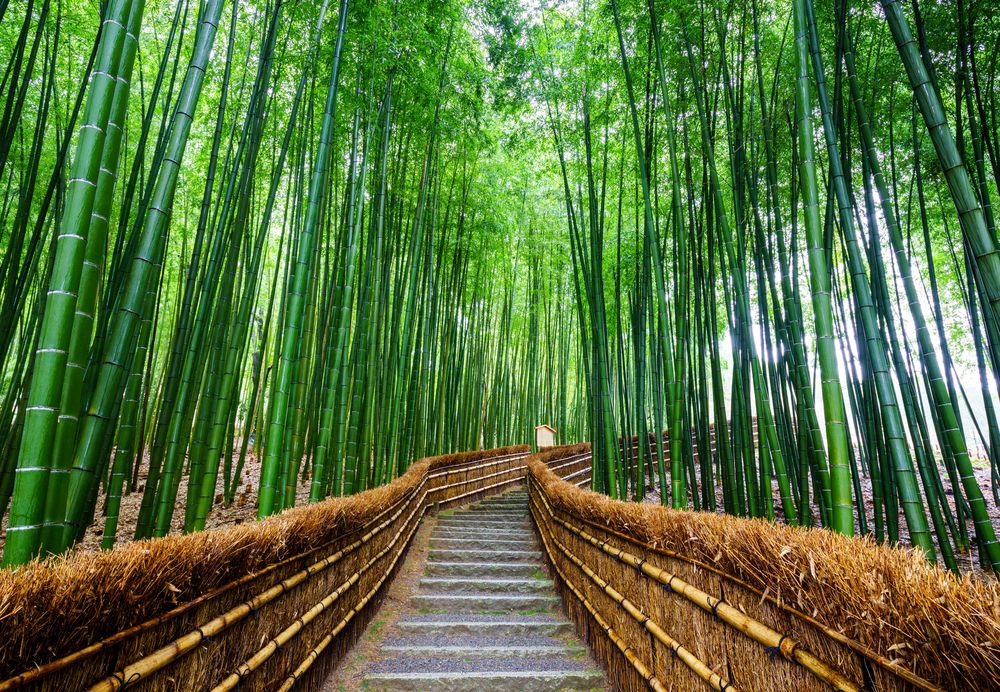 If you are looking for a less crowded spot to spend your afternoon in, head to Arashiyama which is located in the Western part of Kyoto. It's accessible via the subway from Gion, or by hopping onto a bus. You would have seen or heard of the Arashiyama Bamboo Forest while planning your itinerary for the trip. The famed Bamboo Forest is a go-to spot for most tourists who visit the area.
Okoshi Sanso Villa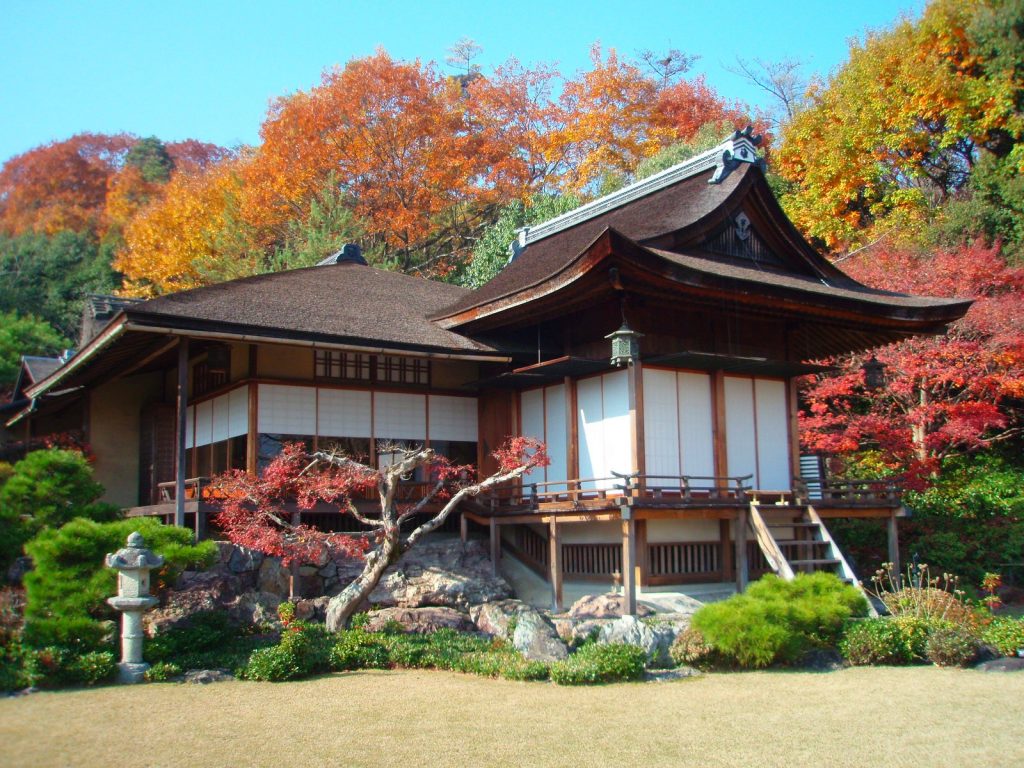 After walking through the Arashiyama Bamboo Forest, you'll end up at the entrance of the Okoshi Sanso Villa, a private villa that used to belong to a famous silent movie actor Okochi Denjiro. You'll have to pay a nominal entrance fee to enter the villa, though the immense visual spectacle awaiting you fully justifies the fee.
The tour encompasses some slight hiking that brings you to the villa where you'll be greeted with a panorama of Kyoto from the villa. The peace and tranquillity inside the villa provides one with a breakaway from the usual hustle-and-bustle of the city, allowing him to channel his inner zen and revitalizes one.
Teramachi Shopping Arcade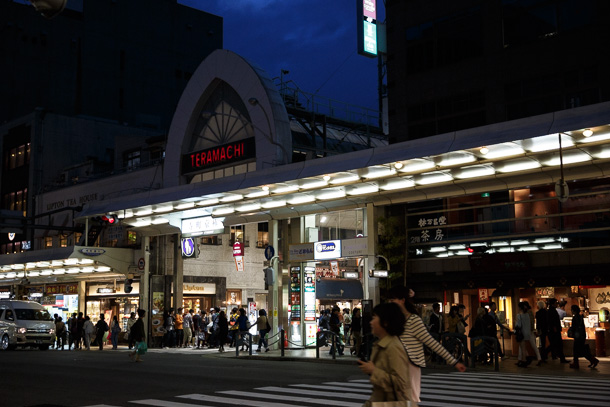 For shopaholics, fret not. The Teramachi Shopping Arcade is a shopping haven for those with an insatiable appetite to shop at. With an extensive range of products and goods sold here at affordable prices, you're bound to end up with fantastic bargains for the quality of the goods generally sold here.
Going back to Dumbo's quote at the start of the article, we tend to be trapped in the cycle of commuting in our daily lives; various modes of transport relied upon to take us to where we should be, rather than where we want to be. Reinforced with the notions of financial security further accentuates compliance to our usual routines.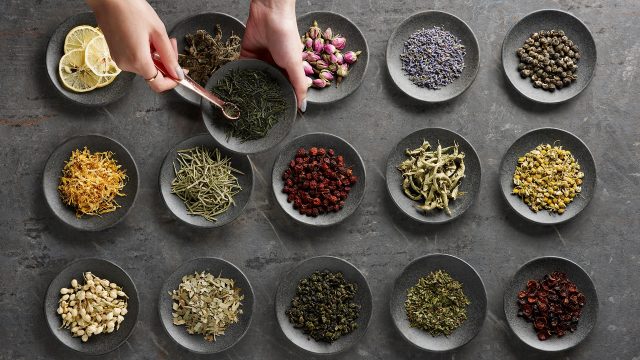 With Monogram, we take you to places that you can only dream of going simply with a sip from your cup. Strike a balance between what you are inclined to do and what you really want from now on. Our range of flavours from Milky Oolong to Provencal Herbs is specifically catered to your mood of the day.
Start living your life now.