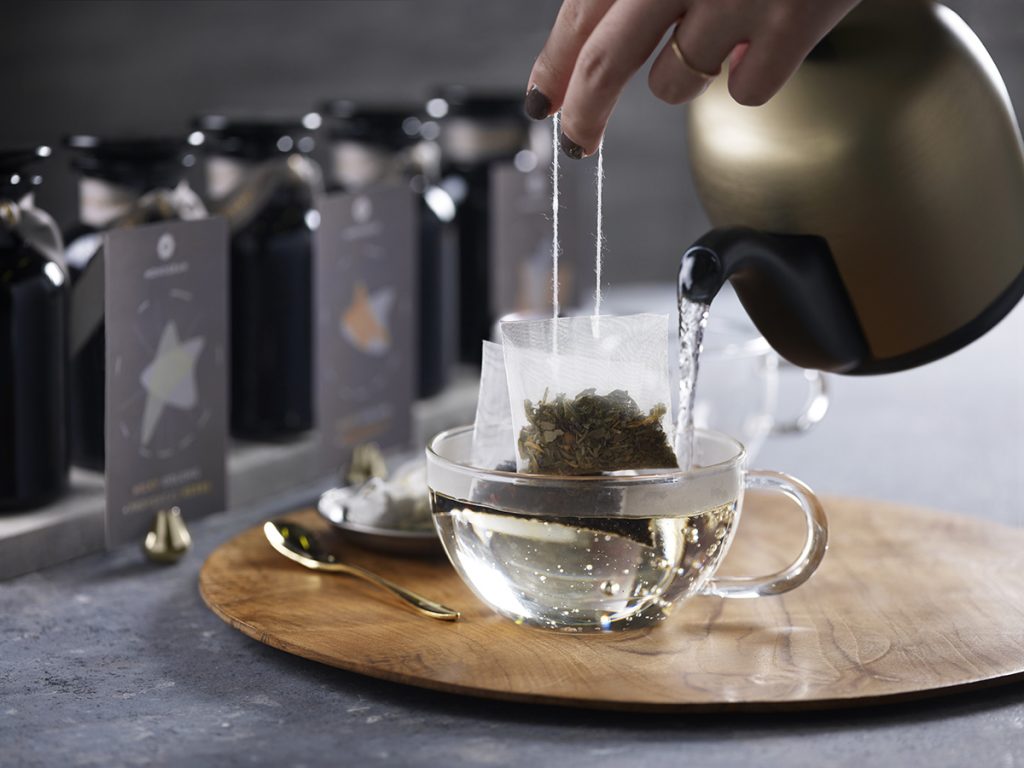 Tea layering is an art. It can be as elaborate and extravagant or as subtle and nuanced as you want it to be. Tea layering allows you the freedom to create a personalised tea blend to call your own, and can evolve as your mood and taste changes. Ultimately, it is the infusion of 2 different tea blends in the same cup, which creates an entirely new and unique flavour profile. To curate your customised blend of tea, start first with your sense of smell.
Our olfactory sense is crucial in triggering emotional responses and therefore, is incredibly useful in helping you choose tea blends that evoke positive memories and emotions. Start with nosing the base notes for your customised blend, using either Black tea, Green tea or Oolong. Take in the different scents and subtle notes which gives each tea its signature taste profile. Narrow down one base note that you think best describes your personality and tastes.
Next, the taste test. Bring a kettle of water to just before boiling at 92?C. Steep the tea bag for 4 minutes to allow the tea leaves to unravel and the flavours to infuse into the hot water. Breathe in as you take a sip of tea, then breathe out through your nose as you hold the liquor in your mouth. Doing this allows your taste buds to taste the flavour of the tea while the full aroma of the tea travels to your olfactory gland. Then, it will give you a much better appreciation for the full profile of the base note.
Monogram's Black Tea selection features four different black tea bases: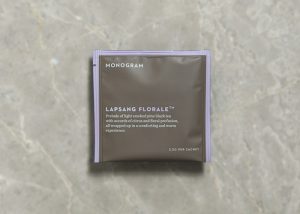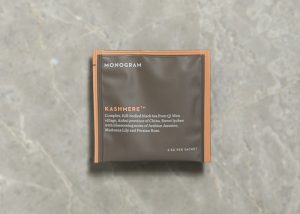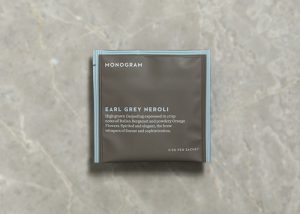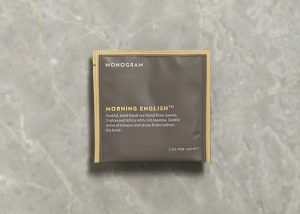 Lapsang Florale is great for those who prefer black teas with a smoky undertone accorded with citrusy and floral notes.
Kashmere is full-bodied black tea rounded off with blossoming notes of Arabian Jasmine, Madonna Lily and Persian Rose, perfect for those who love a rounded yet floral profile.
Earl Grey Neroli is a well rounded black tea crisp notes of Bergamot and powdery Orange Flowers, for those that prefer to start with something familiar.
Morning English is a soulful and rich blend from Assam, Ceylon and Africa, for those that lean towards teas with more oomph.
Alternatively, should you prefer to start with a Green tea or Oolong base, Monogram also has a Green tea and Oolong selection: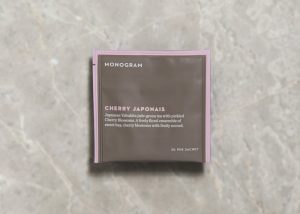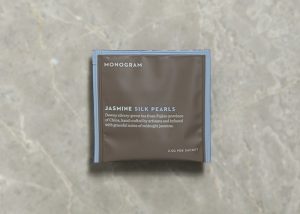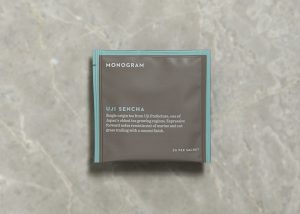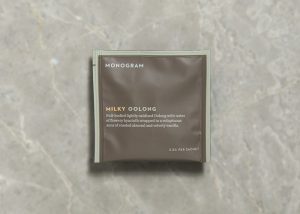 Cherry Japonais is blended with a light and refreshing blend of Japanese Yabukita jade-green tea and cherry blossoms, for those inclined towards green teas with sweet and floral notes.
Jasmine Silk Pearls, is a silvery green tea infused with jasmine, for those who prefer their green tea with a smooth finish.
Uji Sencha has distinct marine and grassy notes with an umami finish, for those who prefer teas with a slightly more vegetal.
Milky Oolong has a full body accorded with flowery hyacinth, velvety vanilla and roast almond notes for those who prefer a creamy Oolong.
Next, you can move onto top notes. Top notes typically have lighter and brighter profiles and are not meant to overpower your base note. Herbs are perfect for layering on top of teas because they tend to have milder flavours, and are complementary to the stronger flavour profiles of tea. Choose herbs that have similar aromas as your tea base or ones that complement the complex characters of the tea.
Monogram has a selection of herbs that layer perfectly with our base teas: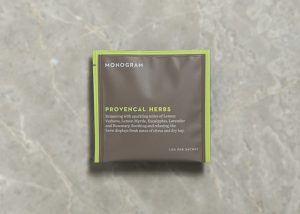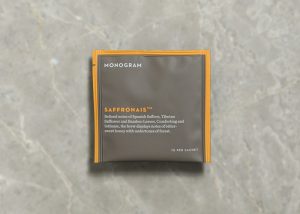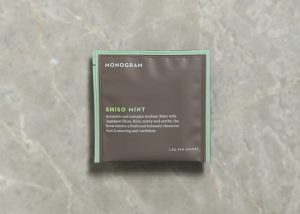 Provencal Herbs is a soothing mix of bright notes of lemon verbena, lemon myrtle, eucalyptus, lavender and rosemary.
Rose of Ariana features fresh Isaphan Rose buds, evoking a delicate aroma and the faintest colour when infused.
Saffronais is blended with Spanish saffron, Tibetan safflowers and bamboo leaves, displaying bittersweet honey notes.
Shiso Mint is a beautiful blend of Arabian Mint and Japanese Shiso, boasting of fresh, crisp minty notes, with a balsamic character.
We recommend layering one base note with one top note so that the final blend is not overwhelmed with too many taste profiles. Some examples of Monogram's popular tea layering pairs are Cherry Japonais with Rose of Ariana, Lapsang Florale with Saffronais or Milky Oolong with Provencal Herbs. Ultimately, the choice of tea layering is subject to your preferred tastes and preferences. With Monogram's selection of 12 different teas and herbs, there are 66 different permutations of tea layering that can be explored.
Here, we leave you with a final tip: keep it simple. Tea layering can be a very complex process if you consider the different elements within the blend that can be personalised. But, we encourage you to start simply with a base, layered with a complementary top note. Once you have developed an eye for discerning which types of tea and which herbs you like, you can move on to develop blends with more complex characteristics.